The World's Largest Dodgeball Game (Ballon Prisonnier in French? Any one to confirm?)
2001 Stadion Dynamo Kiev, Kiev UKR, "Dreamgames"

memo camera | Flickr – Photo Sharing!.
How (and why) Leicester-based Ratcliffe Fowler Design helped Nike create a sculpture out of 5,500 footballs in a South African shopping centre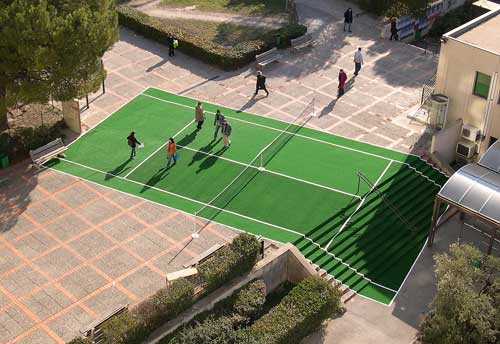 Aire 2005
Gazon synthétique, filet de tennis
Dimensions réglementaires d'un court de tennis soit 23,774 x 10,973 m
Vues d'exposition à l'Université de Provence, Parvis du Centre des Lettres et Sciences Humaines
via http://www.flickr.com/photos/effpunkt/62252346/
A pretty uncommon soccer field in Munich's Olympiapark.
If I remember right, a commercial was filmed there.
What you see is part of the Olympiaberg (Olympic Mountain) which is constituted mainly out of debris from the Second World War. It is now part of the shaped landscape of Olympiapark.